Christmas waves a magic wand over this world, and behold, everything is softer and more beautiful. ~Norman Vincent Peale
As we are in the midst of the Holiday Season, we often get so caught up in all the things that we have to do that we lose the magic of the season. It is so easy to get caught up in finding the perfect gift, making sure that you will have fabulous home cooked meals and decorate your home to the hilt.
And if that brings you joy-have at it!
Just make sure that you are not bartering your joy by doing so much that you forget about being in the poignant moments-the ones that are simple-yet profound-the magical ones.
When I think of the Holidays, I think of my Grandparents. They were and always will be such a huge part of the festivities.
I remember sitting at the dining room table with my Grandmothers, all of us saturated in the smell of anisette while we laughed uncontrollably at silly family stories we never tired of.
And although my Grandparents have passed-I still feel their spirit all around me and wish that I could hug them right now, as tears roll down my face, tears that hold my extreme gratitude and profound loss.
I also think about my beautiful Mother greeting us with her sparkling smile, donned in glitter, always making sure that our home was warm and lovely and filled with an abundance of food that was made with lots of love. She always went the extra mile.
And I remember my adorable Dad giving anyone who would listen the "Maguire clutch" so they had to hear a story that, no doubt, my Mother had grown tired of. I am sure it will be the same this year.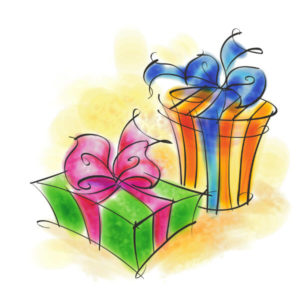 We will tease him unmercifully but he won't care- he loves being the center of attention-even if it is at the butt end of our jokes. Once one of my three brothers starts teasing Dad, he will be beaming and we will be bent over in stitches. It will usually go on until we are crying with laughter.
The gift of an incredible sense of humor comes from my quirky and fun parents. So much laughter…….so much life!!!
And although I am filled with joy at the thought of spending time with them this Holiday season, I also feel extremely vulnerable when I realize that my Dad is 82  and my Mom 80. I keep reminding myself that longevity runs in the family and at the same time-to cherish each magical moment with them.
No one brings more laughter to our lives then my Mom and Dad! They sprinkle fairy dust wherever they go…….
Our hearts grow tender with childhood memories and love of kindred, and we are better throughout the year for having, in spirit, become a child again at Christmas-time. ~Laura Ingalls Wilder
When I think of the Holidays, I also think about our daughters and how they sparkled with delight and anticipation at the top of the stairs while we put the tree lights and a Christmas Carol on , bounding down the stairs when we gave them the go ahead.
Their eyes sparkled as they excitedly opened gifts, always saying it was just the thing that they wanted. Always grateful……….
Happy, happy Christmas, that can win us back to the delusions of our childish days; that can recall to the old man the pleasures of his youth; that can transport the sailor and the traveler, thousands of miles away, back to his own fire-side and his quiet home! ~Charles Dickens, The Pickwick Papers

I hope that they never lose that magic.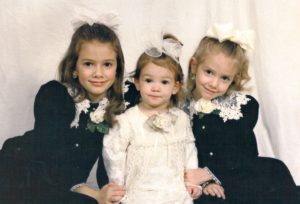 Now they are older and things are different. The gift of these 3 daughters is the most amazing gift of my life (and Jimmy's). They have taught us so much about love and being their Mom makes my heart sing.
I must remember to really look at them mindfully-to see that sparkle in their eye as they carve out their lives with their significant others-to soak up their presence in my life. What a gift-to witness- their life!
And then there is Jimmy, my Christmas baby husband. Jimmy is the one in the background doing for everyone else and never expecting anything for himself. I am so blessed to have him in my life-steady, loyal, dependable and kind.
Our Daughters couldn't ask for a better Dad and as my dear sweet husband, he has always been a rock!
And my Mother in Law who never, ever missed a beat to be there for our girls since they were babies! Jimmy got her unwavering generosity and loyalty and I am forever grateful to her for all of the times she put us first.
And I can't express gratitude without mentioning out Grandchildren. They are pure joy in our life and they give us a renewed sense of profound love.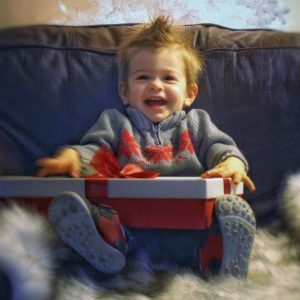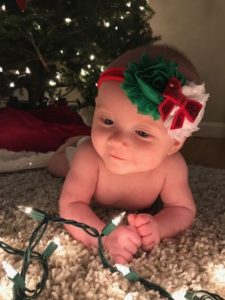 I am overwhelmed with joy when I am around them.
I could literally go on and on about the relatives, friends, coaches and clients who have made my life so much richer…..who have brought loyalty, love, growth, laughter, learning, gratitude, abundance, generosity, dependability, faith , belief and so much more into my life.
But for now, I will simply hold them in my heart as I look at the truest blessings of the season, moment to moment.
And I will make a promise to myself to:
be easier on myself and remember the true meaning of the Holidays is about love-period!
look at each of my loved ones more deeply and witness their life's precious moments
feel enormous gratitude for all of the blessings I have in my life
focus on what is wonderful about each of my loved ones
be in the moment while cooking pizelles, looking at the tree, seeing the light in my loved ones eyes and all of the other small but huge moments
How about you-how will you be more present this year?

Please share below………..

Wishing you all of the Magical Moments of the season,