I was recently offered an opportunity to stage a grand estate in Massachusetts. It was by far the largest and most expensive home that I have ever done and I was a bit freaked out-not  because I didn't think that I could make it look great for the market, but I had only 2 weeks to do it and I was also busy with other jobs and was in the middle of launching my tele summit Fire up Your Client Attractor Factor for Home Stagers.
Yikes!!! I literally felt sick to my stomach but there was NO WAY that I was going to pass this one up.
The other thing that I forgot to mention is that this particular home would need very specific items that I don't normally use in order to compliment its unique classic style. I had to work with the existing paint colors and use decorative items that had a more "curated " feel that one might expect in a Grand Colonial Revival mansion.
And that is where the fun began! I knew that it was important to use some of the client's existing furniture and decor but I also wanted to edit it so that we could breathe new life into it by adding in new items.
It was important to think about who the buyer was that might be drawn to this home. Obviously it would be someone with a lot of money, but it also might be someone who loves the privacy of this 14+ acre estate and still wants to be close enough to Boston. It would be someone who appreciates and has a reverence for the feeling of yesteryear, the attention to detail in the Gumwood living room and the pergola in the back yard that is an extension of the classic garden and overlooks the lake. It would be someone who is forward thinking, cultured and loves all kinds of art, philanthropic and appreciates nature.
Basically I knew that my usual "go to" stores would not work. I couldn't purchase artwork at Home Goods or Pier 1. I needed pieces that were classic and unique and had soul. I started scouring the antique stores to look for artwork and decor that would be fitting.
The  tea room begged for a picture over the mantle. It had to blend with the existing window treatments and the antique screen. I found this picture at a really cool antique store.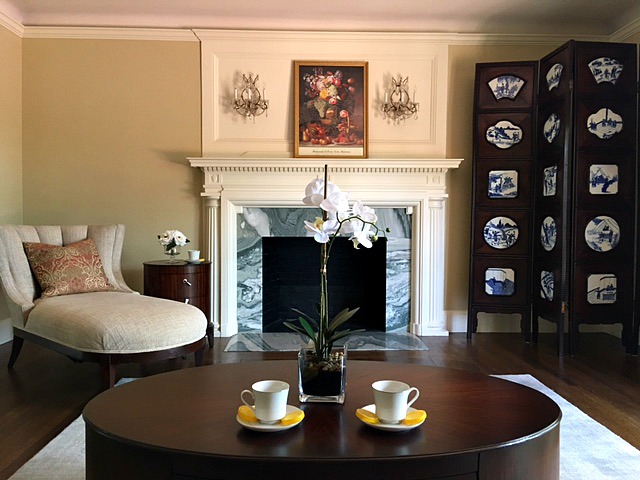 In this elegant gumwood living room we kept the owner's rug and added the tufted couches and coffee table. I also commissioned the custom floral arrangement and was beyond excited when I found the peacock picture at a different local antique store. It was perfect for leaning over the mantle!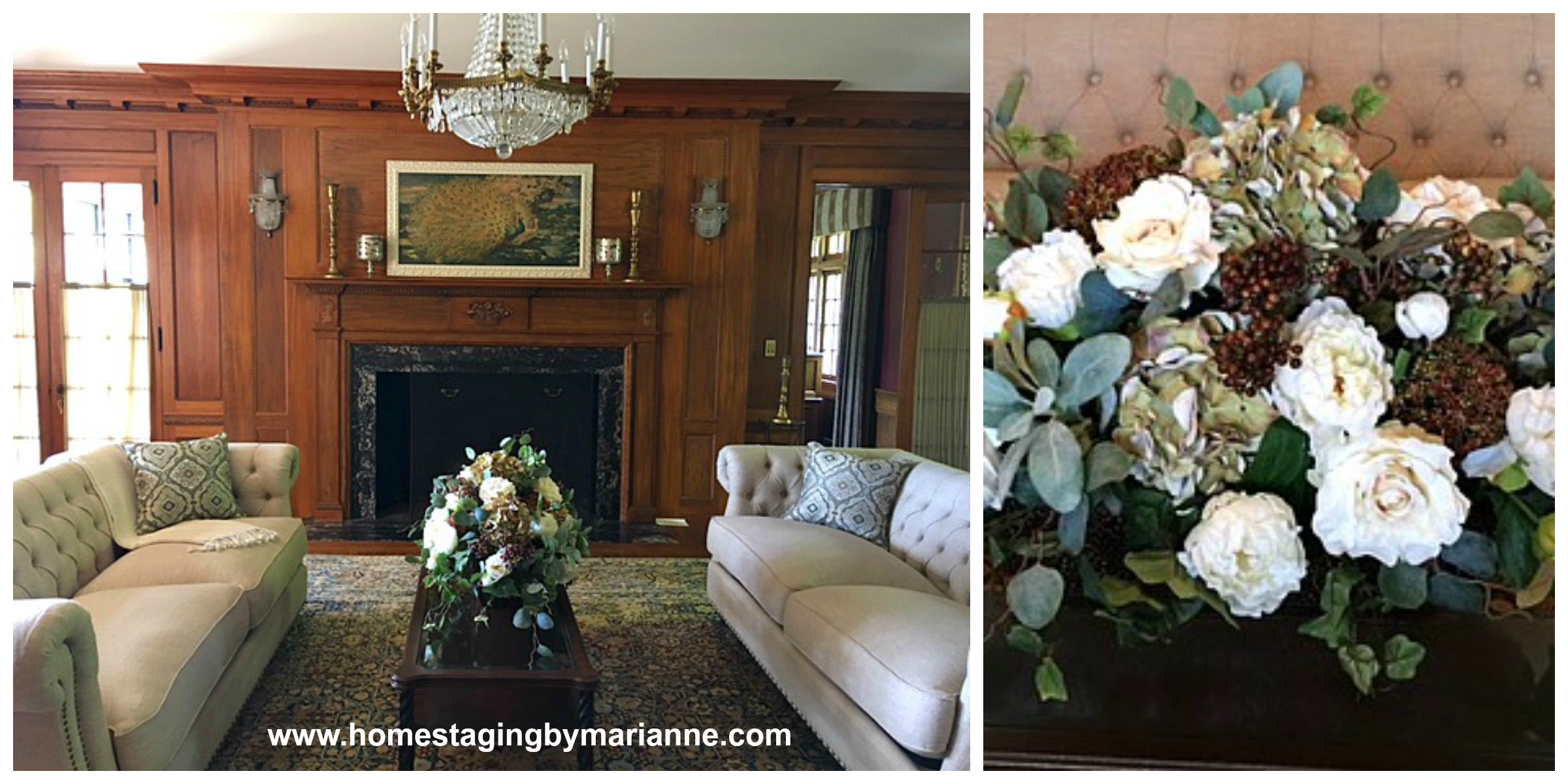 The grand hall begged for an opulent floral arrangement that pulled in the colors from the stairway rug.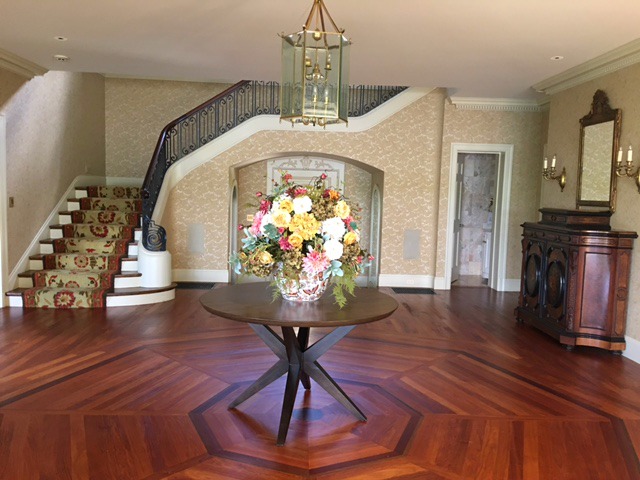 The master suite was exquisite and already had beautiful window treatments and furniture. We simply added new bedding and decor for the mantles and staged the built ins in the bath and the mantle.

And who wouldn't like looking at the water views from this updated kitchen? This room was easy. We simply edited (a lot) and staged any built ins.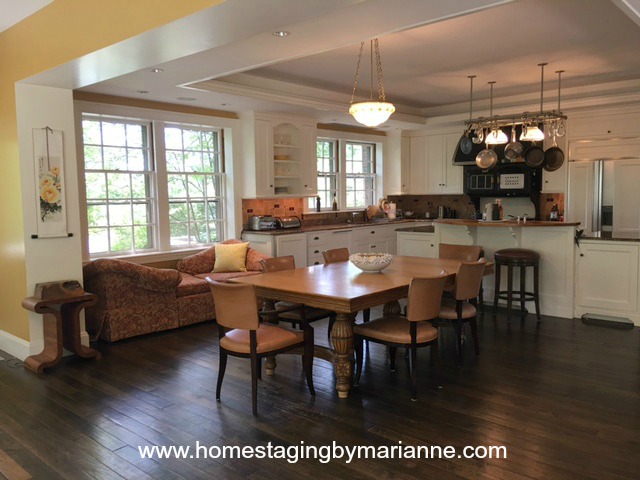 This bathroom below needed a mirror over the sink. There were already hooks in the tile so I needed something that was just the right size (and style). I found a gold mirror in an antique store and painted it white-voila!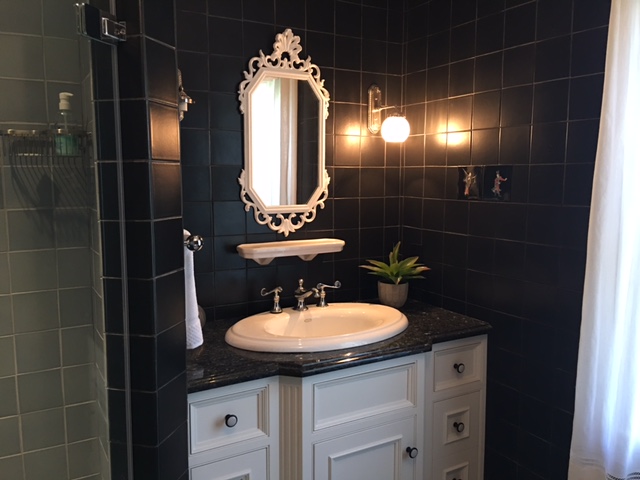 The large carriage house was another fun place to stage. We rented the furniture and rug in the great room and I added the accessories.  The picture of the Martini and Rossi Woman was a big score from a Rhode Island antique store.
This house was truly a fun project! I loved scouring the antique stores and blending in the old with the new. One thing that is important to remember when you are doing luxury staging is that the scale of pictures, etc. has to be larger because the rooms are huge.  It is also important to pay homage to the style of the house. A luxury colonial revival will be staged differently than a mid century modern home for obvious reasons.
But for all you stagers out there who want to venture into the luxury home market-give it a whirl. You never know what you can do until you decide that you can and then go for it!
Cheers to you and your success,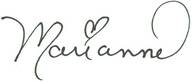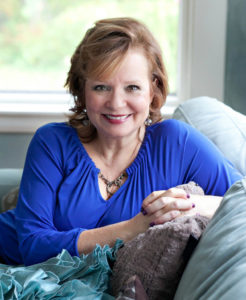 Marianne Cherico is a personal and professional development coach. She has also owned and operated a successful Home Staging Business since 2005. Her background includes 27 years in Real Estate Sales and Marketing and for 17 of those years she was on a Top Producing New England Real Estate team.
Marianne has coached many home stagers throughout the country on how to up level their business by developing both mindset skills and savvy business strategies. Helping these home stagers own their magnificence and create a life and business that sets their soul on fire is Marianne's sweet spot!
Marianne has been a featured speaker for the Real Estate Staging Association on both a National and local level as well as numerous podcasts and radio shows.  Her work  has been featured in Southern New England Magazine and Builder Architect Magazine.
If you are looking for a coach who will help you grow your business, Marianne is your gal!